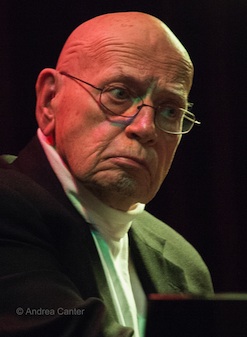 Phil Mattson is a pianist, arranger/composer, conductor and teacher.
In 1983, he created The Phil Mattson School in Spokane, WA. It was the first school designed specifically to prepare vocal musicians, through a course of study emphasizing strong keyboard skills, arranging, and recording studio experience, for careers in both jazz/contemporary and classical music. This curriculum and methodology led to the establishment of The School for Music Vocations at Southwestern Community College in Creston, Iowa, where he taught and led the school for eighteen years. Currently he resides in Minneapolis, MN and works as a vocal coach, accompanist, conductor, teacher and arranger. Phil teaches vocal jazz at MacPhail Center for Music and also leads The Phil Mattson Singers.
Phil has served as Director of Choral Activities at Foothill College (CA) and Gonzaga University (WA). He has also taught at Pacific Lutheran University (WA). He completed undergraduate studies in Philosophy/Religion and Music at Concordia College (Moorhead, MN), summa cum laude, and graduate work in Choral Literature and Conducting at The University of Iowa as an NDEA Fellow.
Phil has written many arrangements for vocal jazz ensemble and choir. The Manhattan Transfer, Chanticleer, The Real Group, The Dale Warland Singers, The Singers MCA andThe Four Freshmen are some ot the ensembles which have commisioned his arrangements. He also edited the arrangements of Gene Puerling for publication.
As a pianist, Phil has played with several notable singers, conductors and instrumentalists. Among them; Gunther Schuller, Rob McConnell, Mark Murphy, Bobby McFerrin, Don Shelton, Sunny Wilkinson, Michele Weir, Anita Kerr, The Four Freshmen, Barbara Morrison, Richie Cole and Inga Sweringen. He has also served as the leader of several vocal jazz groups, including; the p.m. singers, VoicesIowa, Vocalogy, Fanfairs, Veritas and Park Avenue.
Phil served as Vocal Jazz Director for The Stan Kenton Clinics and as ACDA National Repertoire and Standards Chair for Vocal Jazz. He has been nominated for two Grammy awards.