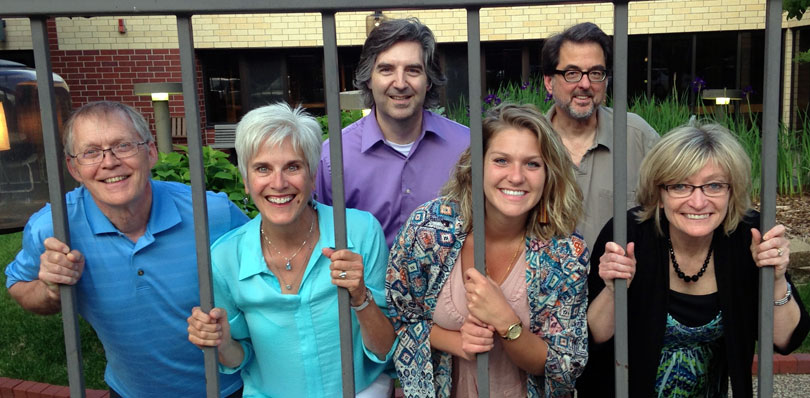 Pictured above, left to right: David Weller, Jody McCormick, Jim Quiggle, Haley Garland, Dick Rogers, Lou Ann Henderson,
---
The Phil Mattson Singers is a semi-professional six-voice vocal ensemble based in Minneapolis, MN.
The group's primary repertoire is vocal jazz arrangements of songs from the "Great American Songbook",i.e. works by the Gershwins, Irving Berlin, Jerome Kern, Cole Porter, Rodgers and Hart, Harold Arlen, Duke Ellington, Johnny Mercer and Rodgers and Hammerstein.
The group, led by Grammy-nominated pianist, teacher, arranger and conductor Phil Mattson, also performs choral music by Schumann,Brahms,Debussy, Britten, Hindemith and others. Phil has written arrangements for The Manhattan Transfer, The Four Freshmen, The Real Group, Chanticleer, the Dale Warland Singers and many other ensembles.
The Phil Mattson Singers perform frequently locally and regionally. They have given concerts for the American Choral Directors Association's National Convention and at New York's Carnegie Hall.
The group's members include: Haley Gardner, Lou Ann Henderson,Jody McCormick, David Weller, Dick Rogers and Jim Quiggle.
HALEY GARDNER- Haley earned her BM in Vocal Performance and a minor in Music Business from McNally School of Music. She teaches private piano, voice and saxophone at her home in Woodbury. She also teaches music appreciation classes at Kinderberry Hill Childcare Development Center. Haley hope to further her knowledge and teaching skills and eventually teach high school music. Haley also performs with musical theater companies in the Twin Cities.
LOU ANN HENDERSON- Lou Ann is an elementary music specialist in the Maplewood/Oakdale/North St Paul school district, teaching music for grades K-5 at Carver Elementary. She is an active performer and a former member of the Minnesota Chorale and the Zephyr Cabaret. Along with the PM Singers, she currently sings in the vocal jazz ensemble "Shoop". Lou Ann is active in music at her church, where she is a choir accompanist,organist and frequent soloist. Lou Ann lives in Woodbury with her husband and two daughters.
JODY MCCORMICK - Jody earned her Master's Degree in Music Education and a certificate in School Counselng. Having taught music in the public school systems for 37 years,she recently retired from the North St Paul/Maplewood/Oakdale school district. Jody has performed with the Gene White Little Big Band, USO Shows, A Touch Of Class, the Zephyr cabaret and Singers in Accord. She sings alto with the Nostalgics vocal quartet and the Classic Big Band and plays piano professionally. She lives in White Bear Lake with her husband, drummer Brett Smiith.
DAVID WELLER- David studied at Luther College (BA in Music Education) and at the U of M (grad studies in Music Theory). His musical life has been rich and varied: as a trombonist, he has been a college studio instructor and has performed with Whoopee John, Mill City Brass Quintet, Minnesota Composers Forum and others; as a singer he has performed with The Minnesota Opera, 15 Head a Theater Lab, Part Four, and numerous solo venues. He lives in Robbinsdale with his wife Jan, and has two sons who are living artistic lives.
DICK ROGERS- Originally trained as an instrumentalist, in recent years Dick has been singing ( and occasionally playing the bass ) in various community and church projects. He sings regularly with the church choir, and occasionally solos there. He works by day in market research, and lives in White Bear Lake with his lovely wife Mary.
JIM QUIGGLE- Jim's interest in vocal Jazz was ignited while in high school. Fueled by Gene Puerling and Phil Mattson arrangements, he was a founding member of Xchange, a vocal quintet of classmates in New Ulm,MN. He went on to study Music Engineering Technology at the University of Miami, home of the first vocal jazz performance program in the country. Opting for a career behind the mixing console rather than on stage, Jim toured heavily until settling down as an Electrical Engineer. Currently residing in Bloomington, he enjoys collecting eclectic Christmas music and traveling with his family.