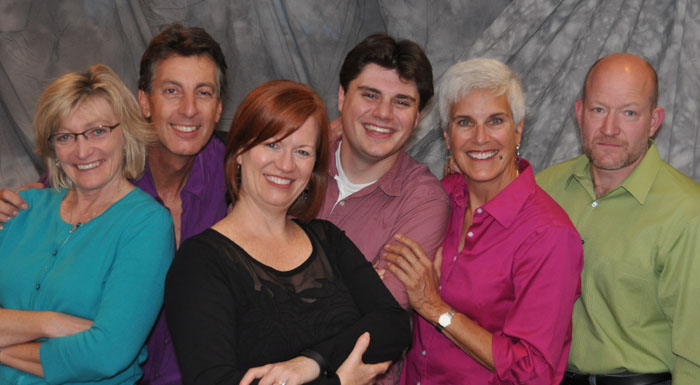 The Phil Mattson Singers is a professional six-voice vocal ensemble based in Minneapolis, MN.
The group's primary repertoire is vocal jazz arrangements of songs from the "Great American Songbook",i.e. works by the Gershwins, Irving Berlin, Jerome Kern, Cole Porter, Rodgers and Hart, Harold Arlen, Duke Ellington, Johnny Mercer and Rodgers and Hammerstein.
The group, led by Grammy-nominated pianist, teacher, arranger and conductor Phil Mattson, also performs choral music by Schumann,Brahms,Debussy, Britten, Hindemith and others. Phil has written arrangements for The Manhattan Transfer, The Four Freshmen, The Real Group, Chanticleer, the Dale Warland Singers and many other ensembles.
The Phil Mattson Singers perform frequently locally and regionally. They have given concerts for the American Choral Directors Association's National Convention and at New York's Carnegie Hall.
The group's members include: Paula Lammers, Lou Ann Henderson,Jody McCormick, Mark Hoffman, Bill Blatzheim and John Sturtz.
PAULA LAMMERS - Paula recieved her MM in Vocal Performance from the University of Minnesota and is an adjunct professor at Concordia University, teaching studio vocal jazz.. She is an active performer in the Twin Cities and has recorded two jazz CDs; A Blanket Of Blue (2005) and Deep Purple Dreams(2011).Paula is a former member of the Zephyr Cabaret and the Minnesota Opera Chorus. She also leads her own group, Paula Lammers and Cloud Nine.
LOU ANN HENDERSON- Lou Ann is an elementary music specialist in the Maplewood/Oakdale/North St Paul school district, teaching music for grades K-5 at Carver Elementary. She is an active performer and a former member of the Minnesota Chorale and the Zephyr Cabaret. Along with the PM Singers, she currently sings in the vocal jazz ensemble "Shoop". Lou Ann is active in music at her church, where she is a choir accompanist,organist and frequent soloist. Lou Ann lives in Woodbury with her husband and two daughters.
JODY MCCORMICK - Jody earned her Master's Degree in Music Education and School Counselng. She teaches music in the North St. Paul/Maplewood/Oakdale school district. Jody has performed with the Gene White Little Big Band, USO Shows, A Touch Of Class, the Zephyr cabaret and Singers in Accord. She lives in White Bear Lake with her husband, drummer Brett Smith.
MARK HOFFMAN - Mark studied music at the University of Northern Colorado and Iowa State University. He has performed and recorded with several regional groups over the years including Essentially Jazz, a six-voice ensemble inspired by Phil Mattson. Mark owns a marketing production agency, creating and producing events,video,branding and interactive web design. He lives in Plymouth with his wonderful wife Kathy and two terrific kids.
BILL BLATZHEIM - A native of the Twin Cities, Bill holds a B.A. in vocal music education from St John's University, where he studied with Dr. Axel Theimer. He has previously sung with Kantorei, a Twin Cities-based choral ensemble. Bill teaches choir at Apple Valley High School, his HS alma mater, where he also directs the after-school Jazz Singers.
JOHN STURTZ - John is a native and lifetime resident of Minnesota. He has performed in several national and regional groups including: 5th Avenue, the Zepher Cabaret, Track 29 and Shoop. He has performed extensively with Twin Cites area community theater groups. By day, he is a veterinarian in Cottage Grove. He lives in Stillwater with his wife Cyndi, two golden retrievers and two cats.