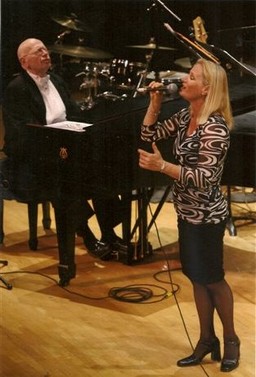 FOR CHORAL DIRECTORS, HIGH SCHOOL AND COLLEGE STUDENTS AND PROFESSIONAL SINGERS
August 3-7, 2015
Augsburg College
Minneapolis, MN
Faculty includes: Phil Mattson. Michele Weir, The Phil Mattson Singers and several guest presenters.
WORKSHOP CONTENT
THE ART OF VOCAL JAZZ: Like classical music, vocal jazz is "serious" music. Its primary concern is musical integrity and with doing an artistic and creative re-creation of the music. A main focus of the workshop is to explore the art of vocal jazz and to cover in depth those factors which make artistic ensemble and solo singing possible.
JAZZ THEORY / VOCAL ARRANGING / JAZZ KEYBOARD / AURAL SKILLS:
This is a major focus of the Workshop. Understanding music deeply is essential for intelligent teaching and performance. Educators attend two 11/2 hour hands-on classes each day, honing their theory "chops", learning to listen and hear more perceptively, arranging a vocal jazz standard for their jazz/chamber choir and adding to their keyboard skills. Student participants, similarly, are grouped by experience in small classes, with studies appropriate to their musical backgrounds.
REHEARSAL TECHNIQUE:
Through analysis of rehearsal problems encountered by educator-directors, rehearsal efficiency will be thoroughly covered. Habits that waste time, techniques that are counter-productive, short cuts to solving musical and vocal problems-these and other aspects of the conductor's job will be discussed and worked with in the actual rehearsal situation. One goal of the workshop is to help all participating educators improve their rehearsal efficiency and effectiveness.
SOLO JAZZ PERFORMANCE AND LITERATURE:
"Standards" - the songs of Gershwin, Rodgers Berlin, Kern, Porter, Jobim, Mercer, Carmichael and others - are the musical foundation on which jazz is built. Learning this repertoire and performing it in a solo setting is an experience of great musical and educational potential. Each day, all workshop participants have two private coaching sessions in solo performance and sing in the evening solo recital with a fine professional rhythm section.
GOALS/POTENTIALS OF THE MUSICAL AND ARTISTIC EXPERIENCE:
Given the fragmentation of education and life in America today, the workshop will examine the significance of music and music education and discuss music's potential for creating community and healing among individuals.
IMPROVISATION:
Approaching music creatively is a major focus of the workshop. Practice in improvisation and discussions of methods of fostering creativity are covered from several perspectives.
CHORAL LITERATURE:
A selection of quality, useable literature for high school and college choirs will be sight-read, studied and performed at the workshop.
VOCAL JAZZ LITERATURE:
Significant vocal jazz literature, both published and unpublished, will be studied, rehearsed and performed.
RHYTHM SECTION AND SOUND REINFORCEMENT PRINCIPLES:
Solutions to the artistic problems encountered in training rhythm sections and using sound systems will be addressed.
SPECIAL CURRICULUM FOR RHYTHM SECTION PLAYERS:
Players will receive private instruction, music theory and improvisation classes and have the opportunity to play within the workshop.
FELLOWSHIP:
Each evening following the solo recital, participants will meet informally at a nearby restaurant.
2015 PHIL MATTSON VOCAL JAZZ/CHORAL Workshop RESERVATION FORM
Please register me for the Augsburg Workshop, August 3-7, 2015.
Name_______________________________
Address________________________________________
City/State/Zip____________________________
email________________________________________
I would like to conduct an ensemble_____.
Voice Part __________________ Please make checks for $195 payable to Phil Mattson, or use the PayPal option at the beginning of this website, Mail to workshop coordinator: Phil Mattson, 825 Summit Ave #1308, Minneapolis,MN 55403 ( 612-355-0072 ). Confirmation and other information will be sent immediately.
School Teaching?_________________School Attending?________________